Computer protection status
If your computer protection is threatened, its status will inform you. The protection icon changes its color (see figure below).
Current computer protection status
There are three possible values of protection status: each of them is indicated with a certain color like stop light colors:
– green. The color of this icon indicates that your computer is protected – the Kaspersky Rescue Disk databases have been updated in good time, the virus scan has not returned any malicious objects or malicious objects have been disinfected.
– yellow. The color indicates a reduced protection. For instance, the anti-virus databases are obsolete.
– red. The color indicates that there are problems which can result in the infection of your computer and loss of data: the application has not been updated for a long time, or malicious objects requiring urgent processing have been detected.
Security threats must be eliminated as they appear. You can view the list of problems, their description and troubleshooting suggestions on the Status tab (see the figure below), which you can select by double-clicking the status icon (see the figure above).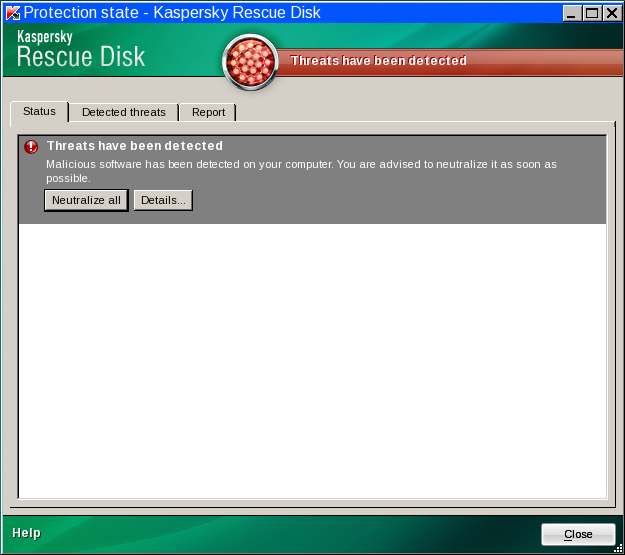 Solving security problems
The problems are listed based on their severity level: first are the most important ones, with red status icon, then less important ones (yellow status icon), the last ones are informational messages with the green status icon. Each problem is provided with its detailed description.
For the Threats have been detected problem the following options are available:
Neutralize all

. Click the

Neutralize all

button to fix the problem, which is the recommended action.
. Click the button to go the tab, where you can view the detailed information on the detected threat.
For the Databases are obsolete the following options are available:
Update now

. Click the

Update now

button to go to the

My Update Center

tab, where you can run an update task.
To display the previously hidden messages in the common list in the Some messages are hidden section, click the Restore hidden messages button.
Computer protection status